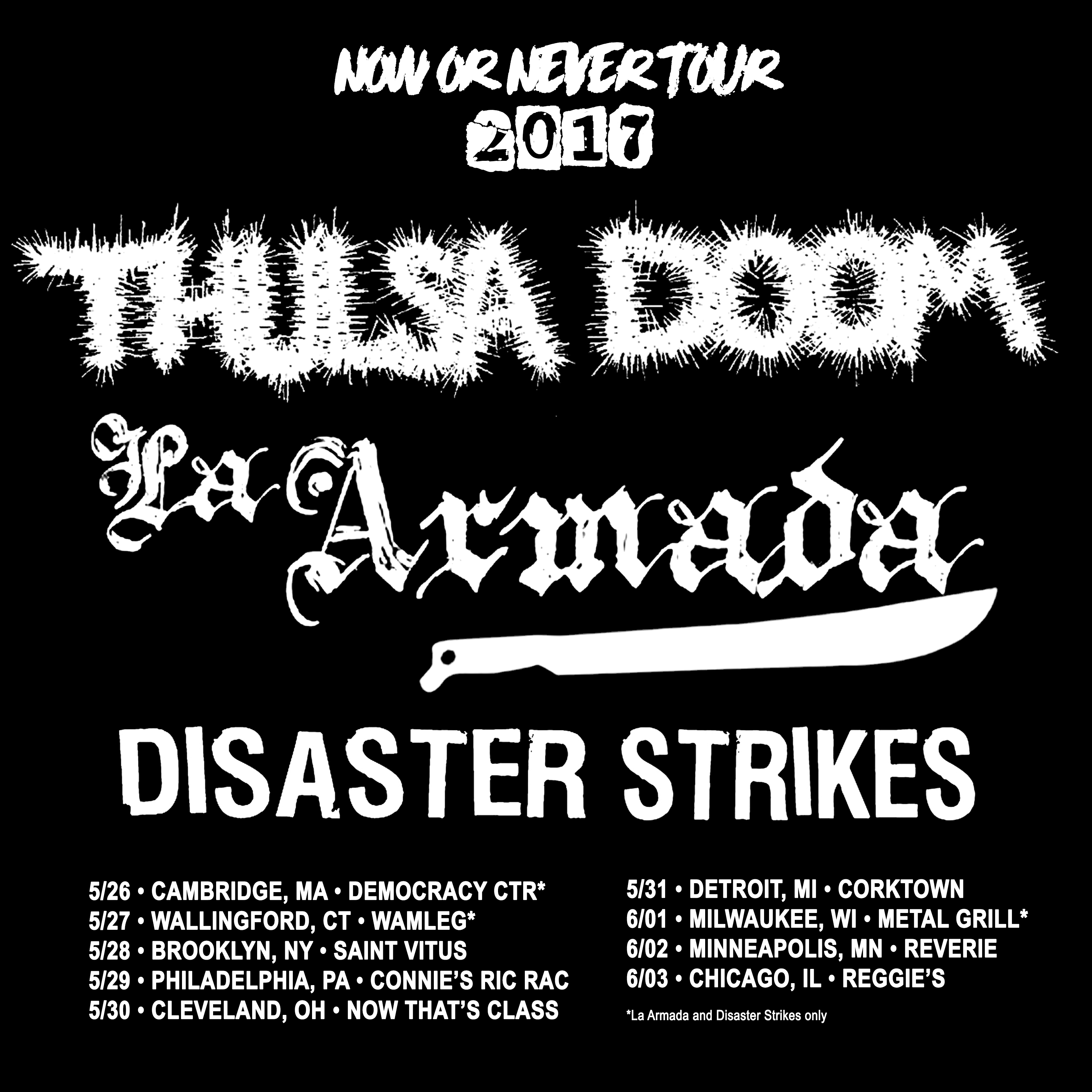 FOR IMMEDIATE RELEASE 
Contacts: 
Chris Shearer, Alternative Tentacles Records 
comm@alternativetentacles.com
THULSA DOOM, LA ARMADA, DISASTER STRIKES ANNOUNCE U.S.A. NORTHEAST, MIDWEST DATES 
Three of the most unapologetically political and revolutionary minded underground bands in the U.S. are uniting for a tour aimed explicitly at rekindling resistance within the punk scene to growing corporate power and global authoritarianism. 
All veterans of the DIY circuit, Thulsa Doom (NYC), La Armada (Chicago), and Disaster Strikes (Boston) will also be releasing a limited pressing 7" compilation record – entitled Now or Never – which features one new track from each band. Proceeds from the record will be donated to the American Civil Liberties Union and Planned Parenthood. 
THULSA DOOM // LA ARMADA // DISASTER STRIKES 
'NOW OR NEVER TOUR 2017' 
FRI MAY 26 • CAMBRIDGE, MA • DEMOCRACY CENTER* 
SAT MAY 27 • WALLINGFORD, CT • WAMLEG* 
SUN MAY 28 • BROOKLYN, NY • SAINT VITUS 
MON MAY 29 • PHILADELPHIA, PA • CONNIE'S 
TUE MAY 30 • CLEVELAND, OH • NOW THAT'S CLASS 
WED MAY 31 • DETROIT, MI • CORKTOWN 
THU JUNE 1 • WISCONSIN • TBA* 
FRI JUNE 2 • MINNEAPOLIS, MN • REVERIE 
SAT JUNE 3 • CHICAGO, IL • REGGIE'S 
* = La Armada & Disaster Strikes only 
The bands are also releasing a hard copy and electronic zine Now or Never with articles and resources highlighting key movement building themes within the bands' lyrics. Now or Never is also the banner under which the tour is being launched. The slogan Resistance Now, Resistance Always is blazoned across the tour poster and album artwork in a variety of languages. 
The tour will see a return to the punk tradition of shows as an organizing opportunity to encourage direct action, protest, and solidarity across struggles. 
"Now is not the time to ask how we got here. Now is the time to resist. We are in a war; a war against the poor, against people of color, against women and the LGBQT community. If we want to survive and prosper we must learn to fight together and support each other with kindness and compassion. We need each other now before it's too late," said Leora Colby, vocalist of Thulsa Doom and owner of Sit & Spin Records which underwrote the pressing of the 7" record featuring all three bands. Thulsa Doom are currently working on a number of upcoming releases that would, arguably, make their post reunion period more prolific than their original late-90's incarnation. 
"Every band on this tour has a history of organizing and activism in their respective fields of concern. This is about us all joining as one collective voice and occupying a physical space night after night where we can all project onto people that there is no room for separation," said La Armada guitarist Paul Rivera. "Especially now. This is about brotherhood, this is about sisterhood, this is about inclusiveness and understanding that resistance and the path to a more equal world starts with each of us." 
La Armada are currently in studio writing and recording their third full length studio album. Their most recent release "Crisis EP" is available from Profane Existence Records. 
Disaster Strikes recently released a new full-length album "In the Age of Corporate Personhood" on Alternative Tentacles Records. The album features a guest vocal appearance by Jello Biafra. The exclusive new Disaster Strikes track "The Vow to Resist" featured on the Now or Never 7" was record by Kurt Ballou during a marathon production session the Converge guitarist recently hosted at his own God City Studios in Salem, MA specifically for bands recording anti-Trump/anti-Bannon/pro-social justice songs.